Deal damage with sniper rifles to opponents – 5 Stars
It shouldn't take long to rack up 500 points of damage with a sniper rifle through normal play. Or if you're a crack marksman, two headshots will do it.
Search Chests in Flush Factory – 5 Stars
This week's killzone is Flush Factory. Get there at the start of the match or don't bother. You need 7 chests to complete this challenge.
Search Supply Drops – 5 stars
As if searching a Supply Drop wasn't risky enough, now you'll need to hang around until the end game to grab the loot and earn this challenge. You need 3 in total.
Visit different Ice Cream Trucks – 5 Stars
You'll need to find 5 different Ice Cream Trucks on the island. There are at least 15 Ice Cream Trucks on the island, so lets look as some of the easier one's to find:
Flush Factory: near the bottom of the map, to the bottom left of Flush Factory
Moisty Mire: there's one half buried in the swamp
Lucky Landing: the bridge here has an ice cream truck
Tomato Town: there's one bang in the center of town
Pleasant Park: again, there's one in the middle here
Retail Row: and one almost in the center of Retail Row.
Wailing Woods: Just north of Wailing Woods is a hill with a truck on top
Junk Junction: Just outside the walls of Junk Junction to the West
Tilted Towers: there's an ice cream truck parked on a road here
Search between a Vehicle Tower, Rock Sculpture and a Circle of Hedges – 10 Stars
Head to Moisty Mire and you'll find a pool of water and a shack in the bottom west of the swamp. The Battle Star is right there, in the bottom left-hand corner of map location H9. you won't be able to see it from a distance so you need to wade in until it appears.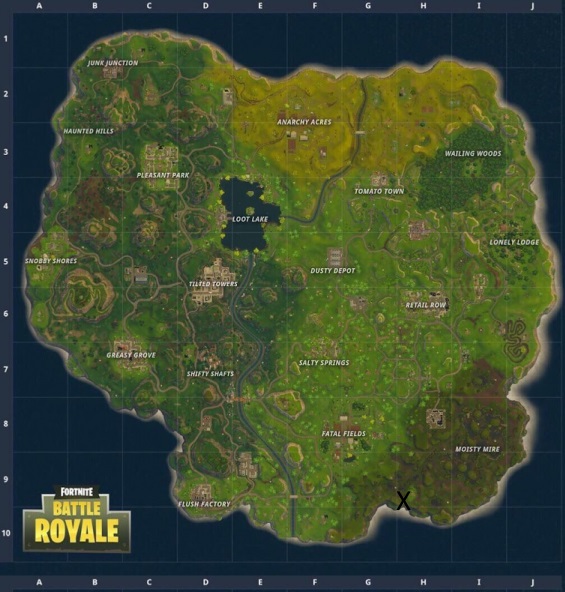 Trap Eliminations – 10 Stars
You'll have to entice someone into your trap, but you only need to kill one player to earn this challenge.
Eliminate opponents in Tomato
Town – 10 Stars
Land in Tomato Town, grab a weapon and go hunting for fools. Three of them, to be exact.